Reman-Exchange Program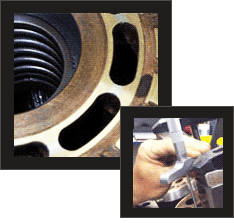 The techniques we developed in the remanufacturing of today's complex construction and mining equipment's components have been continuously refined, and improved, and have evolved into the highly recognized of dependable ADvanced Hydraulics replacement pumps and motors for the mobile industry.
These remanufactured units have proven to meet or exceed manufacturers specifications. Efficiency in our rebuilds, in many cases, exceeded those of the new units.
Over the years, we have accumulated almost all service and shop manuals, testing and adjusting procedures and all breakdowns for most machinery manufacturer. Some of our employees have accumulated over (20) years of expertise in hydraulic repair, design and services. Some have been responsible for quality control and procedure implementation for more than 15 years.
And finally, we have one man that has designed and manufactured (6) test benches for hydraulic pumps, motors and hydrostatic transmissions ranging from 50HP to 700HP.
We have our own engineering department for :
Manufacturing drawings.
Manufacturing procedure and documentation.
Chemical and metallurgical analysis.
Procurement of machinery and tooling.