Repair Services
Pump & Motor restoration
In a case where a core is not available, or where a pump or a motor may need only minor restoration, we will be most please to quote on the "Repair & Return" of your own unit.
Your unit will be dismantled and inspected.
A detailed inspection report and a quotation will be prepared and submitted by fax or email within 24 hrs from the reception of the unit in our Reman Center.
Parts Restoration Service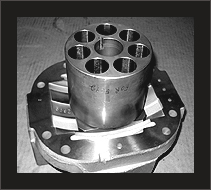 We have the expertise to remanufactured most major pump and motor components such as:
Concave and convex surfaces on cylinder blocks, valve plates and port plates.
Sliding surfaces of control heads and port plates found on variable displacement units.
Most cradle and rocker plates.
Servo pistons and their respective housings.
All flat surfaces found on thrust plates, retainer plates and piston slippers.
All surfaces are re-grounded " Not Lapped" , to keep porous or soft material exempt from contamination resulting from very fine lapping compound. Heat treatment on parts such as control heads and port plates is restored to original specifications.